M.P. Quality Jewelry is recognized for top quality provider.
We are dedicated to achieve customers' trustworthy and satisfaction.
Every piece of our jewelry is made by highly skillful craftsmen with computerized modern technologies.
Design Creating
Designing is the very initial step of making the dreamed jewelry a reality. Our experienced designers can custom design based on customers' concepts to create the perfect designs that meet customers' needs.
Mold Making
The very experienced molders turn the sketch into a master model in order to be recreated and set the base for the total process. Fluid wax is then injected into the rubber mold to create the original pattern. Wax patterns are attached to a wax pole known as a tree.
Casting
Casting is a very complex process and requires utmost skilled and experienced casters for the desired final product. The wax trees are placed in a container, occupied with plaster-like material called investment, then are heated to a very high temperature which solidifies the investment, and at the same time, melts the wax, leaving hollow voids. Molten metal is then poured into the voids. Once cooled and the investment is removed, the jewelry pieces can be cut from the metal trees.
Polishing
The whole piece of jewelry is carefully cleaned and polished to the highest degree of smoothness.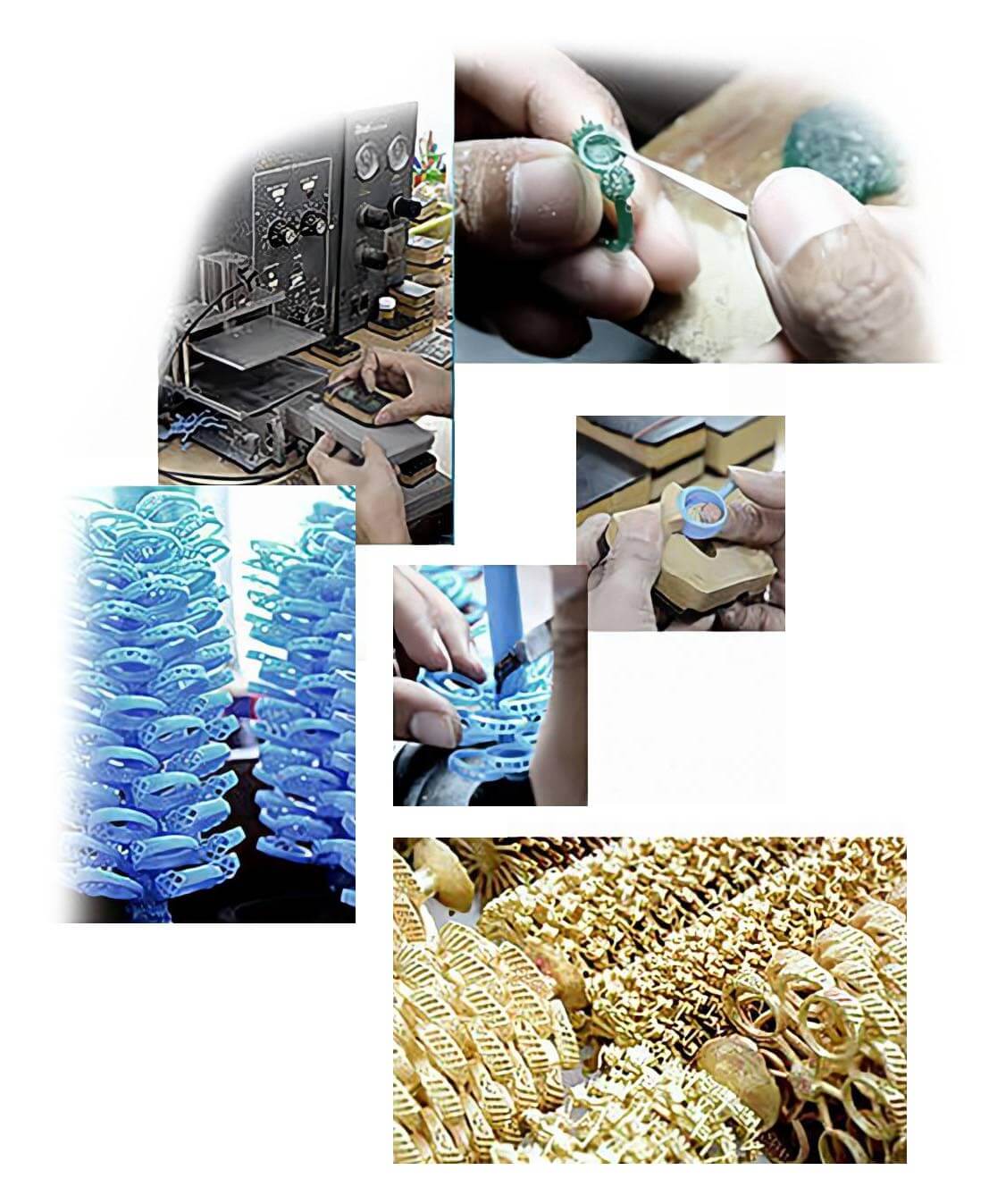 Stone Setting
Stone setting is one of the most essential stages of jewelry making, in which charm and attractiveness of jewelry are created. The main objective of stone setting is to hold a gemstone securely to metal casting as well as to enhance the brilliance of a gemstone by showing its cut, clarity and color. Consequently it requires highly skilled craftsmen who thoroughly understand nature of gemstones and metals.

Apart from stone setting techniques, the most important factor of making the best jewelry is the quality of gemstone, therefore, we strictly source and delicately select best raw materials by tight quality control.
Plating
Plating is practiced by passing an electric current through a solution and then channelizing the plating metal from pure metal plate to the object set aside in the solution. Durability of gold and rhodium plated jewelries depend on how thick and dense the plating is. With over 30 years of experience, together with our strong commitment to quality, M.P. Quality Jewelry is the best in the field.
Quality Checking
The jewelries are brought to the checking department where each and every piece is checked with extensive attention for any defects. Since quality standard is the heart of our business, we set QC & QA process as one of the most important procedures.

Although M.P. Quality Jewelry has been maintaining a very high quality standard, we still persist in developing production process and applying new technology in every single step.